Traveling to NWFC?
Fencers traveling to NWFC enjoy all that surrounds our brand-new facility and some stellar fencing! We invite athletes and their families to come and enjoy the area when visiting for camps and tournaments. Keep reading to learn more about the area, our recommended partner hotels, and other tips for fencers traveling to NWFC.
Accommodations & the Area
Nearest Hotel:
Double Tree by Hilton: Hotel rates start at $99 per night + tax.
*Use Corporate Account 0003353375.
Features include shuttle service, an indoor pool, and an onsite restaurant.
Booking:
1-855-610-TREE | 9575 SW Locust St. Tigard, OR 97223
Local Activities near NWFC:
NWFC is located just outside Portland, OR. Located in Tigard, the gateway to the Tualatin Valley, nearby you will find all kinds of activities. There are many stellar wineries close by, and tax-free shopping at Washington Square Mall. Paved trails surround the area with marked trailheads, making it very walkable.
For more local things to do visit: https://tualatinvalley.org/
Getting Here
NWFC is approximately 30-40 minutes from PDX:  Portland International Airport.
We are located just minutes from downtown Portland via I-5.
Near I-5, 99W, and 217, getting to an NWFC event is easy to do by car, bus or light rail.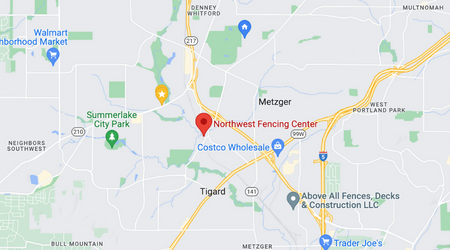 NWFC is approximately 30-40 minutes from Portland International Airport (PDX).