Bryan Tso Jones
Who was your first coach?
My first notable coach was Marcos Lucchetti, when he was based on the west coast in Sacramento, California. He currently is the associate head coach of the Ohio State fencing team.
How long have you been fencing?
I began fencing while a student at university, which at the time had a recreational fencing club. After I graduated, I continued fencing for perhaps 4 years. I took a break for fifteen years, and started again in 2012.
Favorite results/event/moment with NWFC?
Having the opportunity to celebrate the salle's 40th anniversary in 2013, and being a At-Large member this last season.
Fencing Goals?
To build my capabilities as a fencer. To contribute towards the success of other club members, whether in practice or otherwise. To have fun while doing so!
What or who inspires you?
This is both an easy and hard question to answer; generally, I am inspired when I hear or read about fencers my age who are still able to compete successfully at a high level of competition internationally, that is always exciting. Speaking more from an older perspective, I find on the piste that the largest challenge I face is myself, as supposed to my opponent. This doesn't mean you ignore what it is your opponent is doing! But working on those aspects of my fencing in a competitive situation, is what is engaging to me. And in those instances when you can do that consistently, success follows.
Caroline Lee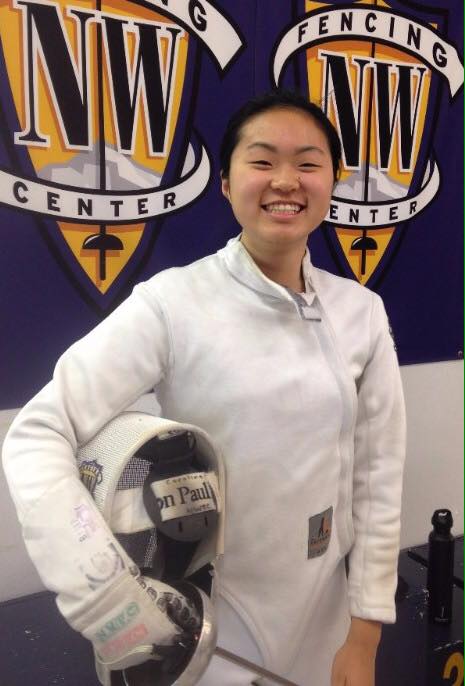 The very first coach I met at Northwest Fencing Center was Josh Fowler. He is the person who taught me my basic footwork, including the advance, retreat, and lunge. Sadly, he is no longer with us, but his kindness towards me on the first day has stayed with me since. Currently, I have the privilege to fence épée under the tutelage of Cody Mattern!
How long have you been fencing?
I started fencing in June 2012, towards the end of 6th grade. I was first introduced to fencing when I watched The Parent Trap, because there is a scene in which the two main characters duel dramatically at summer camp. Additionally, at the annual variety show, my friend demonstrated fencing in front of the school. I was inspired to fence by watching the movie and by observing my friend's passion for the sport.
Favorite results/event/moment with NWFC?
My favorite event was fencing teams at the Junior Olympics with some of my best friends. I love fencing as an individual sport, but it is even better when I get to collaborate with my teammates and cheer them on.

Fencing Goals?
My coach Cody Mattern inspires me the most. Over the years, I have realized how incredibly fortunate I am to attend school 2 minutes away and to live in a city with a strong fencing history. It truly is an honor to have Cody as my coach. As an individual, Cody has accomplished a great deal in his fencing career. He competed in the 2004 Summer Olympics, became a Fencing Master, and currently he is a Vice President of US Fencing, Vice Chair of the Athlete Counsel of the Olympic Committee and involved in many other things. I look up to Cody in that sense because he inspires me to work hard and to pursue my passions. In addition, Cody has inspired me to have endurance, whether it be in life or on the fencing strip. My friends and I have a saying that we repeat at tournaments: "In Cody We Trust". It may sound silly, but it's definitely important to keep Cody's advice in mind because it can be applicable to both fencing and life. I am inspired by my coach because he pushes me to be a better athlete and strive for excellence in all that I do outside of the sport.

Interesting fact?
My Instagram username is @carolinefencing, so many people think that my name is Caroline Fencing. They are shocked to hear that my last name is actually Lee! One time I was standing in a line for students with last names J-M. A classmate standing in the F-I line next to me told me that I was in the wrong line. I soon realized that my classmate had assumed my last name was Fencing based on my online username.
Cees van Baaren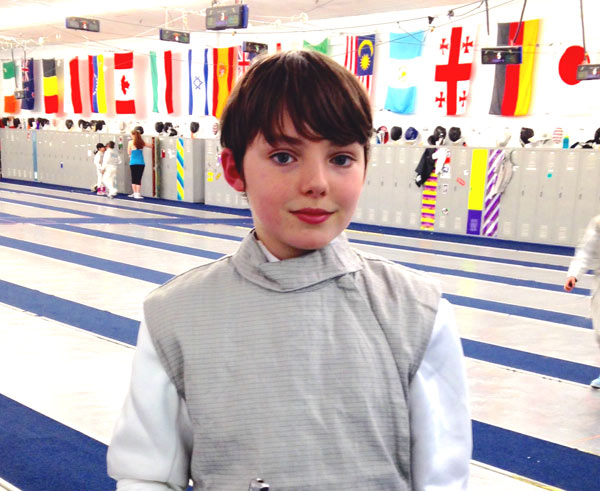 Who was your first coach?
My first fencing coach was Vince. He is a good coach. He's very funny and he makes the Hungarian Dodge Ball and Kingdom games fun.
How long have you been fencing?
I have been fencing for 7 months. This is the first sport I have ever played. I am homeschooled but I started in the youth class.
Favorite results/event/moment with NWFC?
Moving to Youth 2 has been the best thing that I have done so far.
Fencing Goals?
My fencing goals are to do well in my first tournament this weekend!

What or who inspires you?
The Olympics inspired me to start fencing, I saw it on TV.
Bill Walker
1. Who was your first coach?
My first fencing coach was Leon Auriol. I have been very fortunate to have taken lessons from some of the best known fencing coaches in America (Leon Auriol, Alex Beguinet, Michael Marx, Yves Auriol, Sebastien Dos Santos, Cody Mattern and Christophe Duclos). I've also had wonderful lessons from Jean Francois DiMartino and Thomas Theuerkauf.
2. How long have you been fencing?
I have been fencing for 19 years. But my fencing was split. I started fencing when I was 23 at the Silver Steins in Seattle. I fenced for 10 years. I then took a break for 25 years, returning at age 58 in 2008. I have been fencing for 9 years since my return.
3. Favorite results/event/moment with NWFC?
Probably my best event was the March NAC in Reno in 2015. I finished 2nd in the Vet 60 Mens Epee and 3rd in the Veteran Mens Epee. One of the most memorable bouts in that tournament was my round of 8 bout with Eric Warlaumont in the Veteran Mens Epee. It seemed that all weekend I was "in the zone". Cody may remember it slightly differently as he worked his tail off to keep me "in the zone".
4. Fencing Goals?
My two primary objectives in fencing are to have fun and make fencing fun for my teammates, friends and colleagues. Each year, Cody and I start the year with specific milestones, but the two objectives remain at the top.
5. What or who inspires you?
My mother, Jean has been a great inspiration for my life, but I am also inspired by the coaches and teammates at NWFC. Cody and the other coaches are very dedicated to my success as well as the success of all of their students. They celebrate my successes at least as much as I do and they seem never to be put off when I fall short. I am also very inspired by the spectacular progress of my NWFC teammates. I have seen many young men and women become outstanding fencers and just wonderful young adults. It is just wonderful to watch and to be part of their growth and development.
---
Brooke Schmugar & Debbie Schmugar
This month we are spotlighting two NWFC members, a mom and daughter duo, just in time for the holidays.
Brooke, an epeeist, is 14 and after only a year and a half she progressed from the youth to the competitive class. She homeschools, is learning Latin, goes to horse camp in the summers, was a Junior Counselor at Tillicum Summer Camp, and is a competitive chess player. She also plays piano and clarinet with the Beaverton Community Band, an ensemble that includes both her parents.
In addition to those wide-ranging activities, she has one quite unique one. She has her own business breeding snakes! She breeds corn, hognose, rubber boas, and bloodnose python snakes, and sells them on her website. If you need to know anything about snakes, she is your girl. The definition of a herpetologist is someone who specializes in the study of reptiles and amphibians. Brooke is a herpetologist and eager to educate people on the matter. Her website is www.northwestsnakes.com.
Fencing has taken up quite a bit of her time these days. In addition to her own classes and private lessons, she has been training closely with Cody and the other coaches to be a fencing coach. She works with the youth class almost every night and she attends the coaches' trainings every week while they devise their lesson plans. A few weeks ago, Brooke went to her first US Fencing North American Cup in Milwaukee, and had a blast. She experienced her first "flighted" event, where there is a long wait from pools to the first DE, and still had fun! She's looking forward to her next NAC.
Debbie, Brooke's mother, started fencing with the adult class. She had been taking Brooke to class and thought it looked fun. Debbie and Brooke both enjoyed having this time together until Debbie tore her meniscus. She looks forward to it healing and will possibly wheelchair fence until it's 100%. Debbie also loves music. She was a semi-professional trumpeter with Busch Gardens and Disney. She met her husband in a jazz band and after having their two children, she renewed her love of teaching by becoming a music educator. In addition to playing in the Beaverton Community Band, she volunteers by fundraising and organizing events. She deeply believes music brings people together; a common bond develops through the musical effort, and musicians can't succeed without teamwork. She also founded a Mothers of Preschoolers group, volunteers at her daughter Brianna's ballet studio, and has helped both Brooke and Brianna's mission project where they make "blessing bags" to donate to people in need.
Brooke and Debbie have achieved so much already and we look forward to their future with NWFC!
---
Marcus Strugar
Marcus Strugar is one kid to watch; partly because he is watching you. That's what he does. He doesn't talk much, he's not loud and outgoing, he is learning by watching. He is only 10 and in the talented and gifted program at his school. He loves math, strategies and the rhythm of music – all the elements of a talented fencer.
December 5th marks the one-year anniversary of Marcus' first tournament at Northwest Fencing Center. Since then, he has traveled to Texas, San Diego, and the Bay area to compete in Y10, Y12 and even Y14 foil events. At the end of the month, he will be traveling to Chandler, Arizona to compete at the SYC and next month to the Denver, Colorado SYC. Marcus is currently ranked #12 nationally in Y10 Men's Foil, and his goal is to be in the top 10 prior to the 2017 Summer Nationals.
When Marcus is not training or competing he likes to hike and go mushroom hunting with his family. His favorite hike is Dog Mountain. He loves international cooking — Romanian food from his dad and Filipino food from his mother's side of the family. As mentioned, he loves music too. Surprisingly, considering his reserved demeanor, he enjoys dancing to everything from current pop and hip hop to the The Piano Guys. According to coach Vince, his spirit animal is the hidden dragon. How fitting!
---
Gregory Mitberg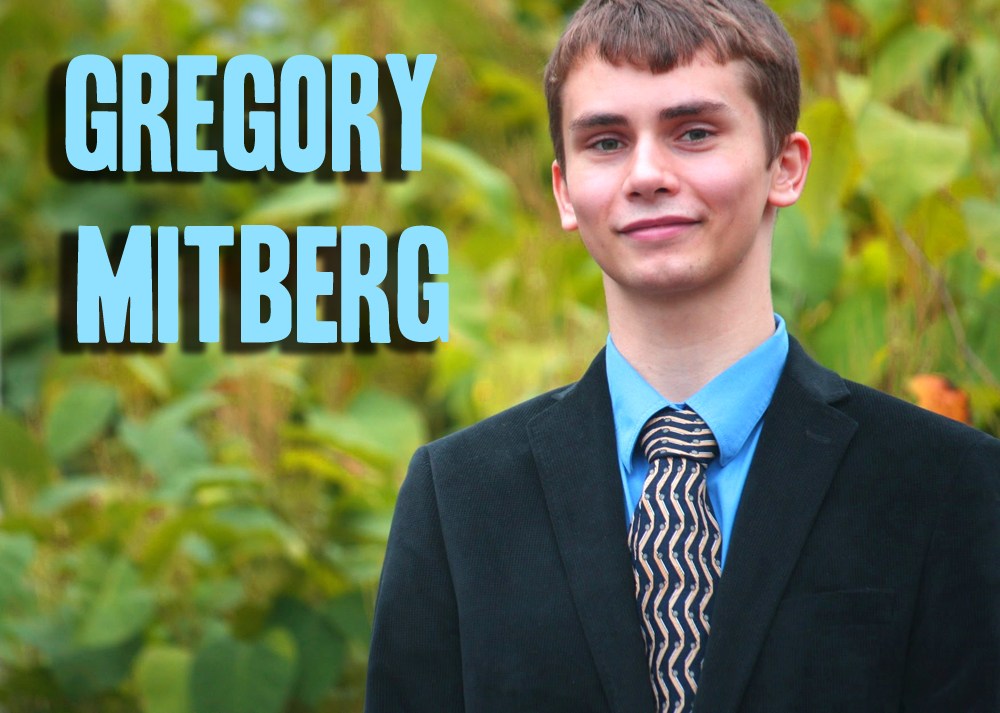 The November Athlete Spotlight of the Month is Gregory Mitberg. Gregory returned home from Bangkok, Thailand representing the USA with an individual finish of 15th place and a shiny gold medal in the team event. This is one of four international events that determines the USA national team that will compete at the World Championships in Bourges, France in April 2016. The gold medal in the team event moved the USA Junior team to the #1 ranking in the world which gives the team ideal seeding in the spring. His 15th place ranking will help solidify his national ranking of 11th on the junior points list. Gregory's fencing career has come a long way since he was 5 years old in the Home School Class here at Northwest Fencing Center. I asked him who his influences were, and he had a long list; "Michael Marx originally gave me the passion for this sport that I still have to this day. Cody Mattern showed me that even the best people can be beat if you have the courage to try. Simon Abram has been very patient with me over the years and helped me through some of the toughest fencing years of my life. Sebastian Dos Santos taught me to be patient on the strip and that training and fencing as a whole, was for me and no one else. Christophe Duclos is the only person ever to understand how I think on the strip and has helped me grow as a fencer through hard work and unwavering dedication."
One of his proudest fencing moments was when he fenced a highly ranked opponent in 2013 at a Div1 NAC. He was down 10­14 and came back to win 15­14. It was one of the first times he was able to win an important bout tied at 14­14, and one of his favorite moments in his career. It's a great experience every fencer can learn from. The next tournament on the long list for this season is in Kansas City, at the November North American Cup. He will be competing against 250 other junior men's foilist. After that he will travel to Bratislava, Slovakia. For a full schedule of events or to support his journey, you can visit his Facebook athlete page here: Gregory Mitberg
---
Natalie Yen, age 9
atalie has been fencing for about a year at Northwest Fencing Center. Under her dad Albert's tutelage, she started practicing footwork in the garage at home. Albert fenced in college at UCLA. Soon she joined the NWFC Beginner class. Natalie quickly moved up to the Youth Comp class and started taking private lessons. After each lesson she and her dad run through the lessons so each movement becomes habit. She currently fences three to four days a week and is at the club while her parents (Sara and Albert), fence. Natalie has won a Y10 Pacific Northwest Cup last season, and the most recent Y10 Pacific Northwest Cup this season, and placed 6th and 7th in Y12 this year. She has traveled twice to Bellevue to compete where she took first place in their Y8 events.
In addition to fencing, Natalie has a long list of notable hobbies. She has been training with the Portland Ballet Company for 2 years and aspires to learn French and Mandarin Chinese. She also plays the violin; you can watch her play Bach violin concerto in A minor when she was only seven years old .
Natalie's other sport is golf, which she started playing when she was four. Since then, she has competed regularly around the country. This year, Natalie placed 10th in the eight-year-old category at the World Championships at Pinehurst, in North Carolina. In 2014 she placed 5th in the seven-and-under category at the World Championships. Her first big wins were in 2014 where she won the Texas Open and the California State Championships through US Kids Golf. In 2013 she has earned the title of Local Tour Champion for girls seven-and-under here in Portland. Through Oregon Jr. Golf, she has tournament wins at nearly every golf course in Oregon. Local major tournaments wins include Peter Jacobsen Jr. Challenge, Central Willamette Junior, Southern Oregon Junior, Klamath Basin Junior, Central Oregon Junior and also wins at the Tournament of Champions and Tournament of Major Champions. During the summer months you can find the whole family at the Willamette Valley Country Club or traveling to competitions.
Natalie's dedication to her interests shows in her trophies and awards but that doesn't stop her from having a sunny, playful heart. She especially enjoys the friendships made at Northwest Fencing Center and on golf courses around the country.
---
Mac Beall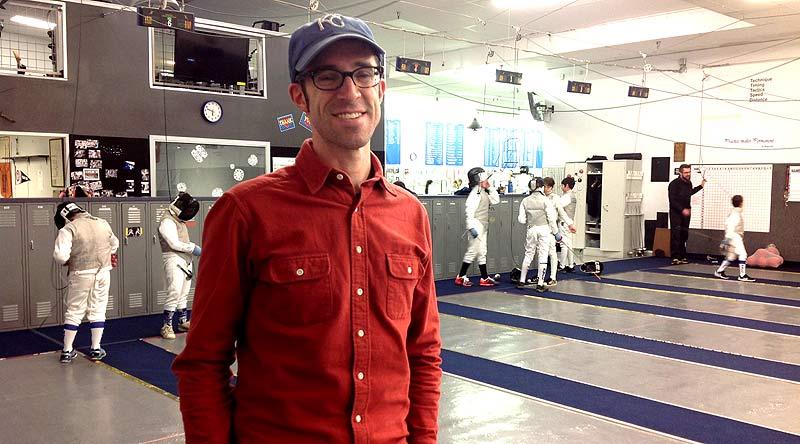 How and when did you start fencing?
I fenced for about a year in college at Stanford, just for a one-unit athletic course without much actual instruction. Milo took a one-week summer intro to fencing class at our local middle school and really enjoyed it. Soon after, he and Calvin joined the youth class at NWFC. I learned more in the first few months of just watching their lessons than I learned in the whole year at college. After watching long enough, I had the itch and started taking the adult class with Vince about one and a half years ago. I switched to epee about a year ago and started taking private lessons.
You recently earned your D, were you surprised by that?
My only competitions so far had been the first two PNW Cups where I took third in both. At the last PNW Cup I went from a U to a D. I guess I wasn't really surprised by that as I didn't have any particular expectations about how I would do. I was just showing up to compete and have fun, regardless of the results, and it turned out well. I was mostly pleased by the fact that I think I learned a lot in the course of losing each of those semi-final bouts that I was able to carry on to my fencing afterwards.
What draws you to the sport?
What I probably enjoyed the most about the competitions and fencing in general is getting to know the people I was fencing. Approaching competition as a fun game to share with someone else, instead of contest to dominate another person, ends up being a great way to learn about different backgrounds. I don't really have any specific competition goals; I view fencing as a fun form of exercise that balances out cycling as my other form of exercise.
Are you interested in any other sports?
As for other sports, I had the joy of being the worst player on the team in softball, baseball, soccer, and hockey while growing up as a very undersized kid in Kansas City. That lack of success may have led to some frustration that translated into being very successful at martial arts in high school. I qualified for the Junior Olympics for martial arts, but wasn't able to go as I was in Japan as an exchange student. I kept up on martial arts through college, but dropped it as cycling became my primary sport. I haven't really competed much in cycling other than some seasons of cyclocross. I stopped cyclocross after fracturing my tibial plateau (top of the shin bone at the knee) four years ago during a recreational softball game.
What is your professional background?
I'm 43 now. I was born in Michigan and grew up in Kansas. I went to Stanford University for undergrad, as a philosophy major. I went to U of Michigan for medical school. University of Missouri, Kansas City for Orthopedic Residency, UC San Francisco for a fellowship in hand and elbow surgery, and the Northern California Shriner's Hospital for a fellowship in pediatric hand and elbow surgery. Basically I did a MI, KC, CA loop twice before detouring up to Portland. I've been in Portland for ten years now with Orthopedic & Fracture Specialists, treating kids and adults.
What is something your fellow athletes may not know about you?
My other main interest has always been music. I have an uncle who owned a record store and fed me music as a kid, and my grandfather owned and ran a radio station. I was a DJ in college, drove a tour van for a British punk band, worked a bit for some record labels, and was briefly in a band with my wife JJ and some others during med school. JJ ran a record label of her own for a while as well and that's how we met.
---
Kaiden Crotchett
Like many fencers, Kaiden tried many sports before enrolling in his first fencing class. He was nine years old in the youth class with coach Helen Jolley. At eleven he moved to Pre-comp and by thirteen years old he was promoted to the Competitive class to train with much older, and more experienced athletes. Getting to NWFC wasn't easy. After school he did homework, rode his bike to the MAX train, took the train into downtown Beaverton, and then rode his bike the last leg to get to the club. Often it was dark, raining and cold. It's safe to say by thirteen Kaiden was determined and dedicated, no other sports were on his mind.
After winning a few Pacific Northwest Cups as a youth, he started traveling and going to the USA Fencing's North American Cups all around the country at age thirteen. At fourteen he placed 5th in Div 2. At sixteen he placed 8th in Cadet and 13th in Junior. Recently he placed 21st in the most difficult event, Div 1. Kaiden and his teammates placed 2nd in a team event in Richmond. He has won Regional Open Circuits, (ROCs) here in the northwest. At the 2016 International Epee Camp War of the Roses Tournament, he beat guest coach Jean-Francois DiMartino in DE's, eventually losing to our other guest coach, Fabrice Jeannet and ultimately placed 2nd among forty-eight of the best athletes from around the region. Most recently, Kaiden traveled with coach Cody Mattern and teammates to London to attend the Leon Paul Epee camp and tournament. This was his first overseas fencing experience and it couldn't have gone better, he placed 1st in the competition beating out over seventy other fencers.
He takes pride in listing the names of coaches who have helped him get to where he is; Helen Jolley, Michael Marx, Adam Maczik, Carlos Bruno, Sebastien Dos Santos, Jon Willis, Fabrice Jeannet, Jean-Francois Di Martino, and of course current coach, Cody Mattern.
Cody says he is dedicated, very hard working, a great encouraging teammate and he is passionate about his training, which are all the best qualities in a student at any level.
Kaiden is a senior at Hillsboro High this year. He would like to go to Ohio State because they have an industrial design program and because they have an excellent fencing program.
---
Maria Copelan
Maria started fencing foil 12 years ago in San Diego to improve her health and become more physically fit. She, her husband and their four children moved to Portland just six months later. She fenced foil for four years and then switched to epee when she reached 40, the Vet age category. She loves epee because the points are clear, there is no translation of right of way through the lens of the director or anyone else.
In November, Maria injured her right shoulder. In February after a shortage of patience, she started fencing left handed so that she could continue to train. As if fencing with her left hand wasn't difficult enough, she also changed from a pistol grip to a French grip. Learning this new movement she says is like learning a new language–it's using a different part of the brain. This new perspective of target area and reach initiates stretching and growing of the mental game for her as well.
You will see Maria's name on the Northwest Fencing Center championship banners many times. In 2012, at the US Fencing National Championships, Maria earned the gold medal in the individual Vet 40 event and her NWFC team won gold in the Div 1 Senior Team event. In addition to bringing home two gold medals that weekend, she placed 8th in the Division 1a category among athletes who were possibly only 13 years old. Maria and team continued the gold streak in 2013 and in 2014. She is proud that the gold medals were for Senior Team, not a Vet event. In all cases, the team was comprised of NWFC athletes, not hand-selected competitors from around the country. They worked hard, didn't get scared and followed each other's guidance. Maria's additional accomplishments are impressive; she's earned many silver and bronze medals and has been on the podium countless times. She attributes her wins to good communication and trust with her coach and teammates. She's looking forward to Summer Nationals/July Challenge in Dallas in a few weeks where she will be fencing in Vet 40. Her fencing career goal is to someday make the Vet World Team after she turns 50.
---
Leo Curtis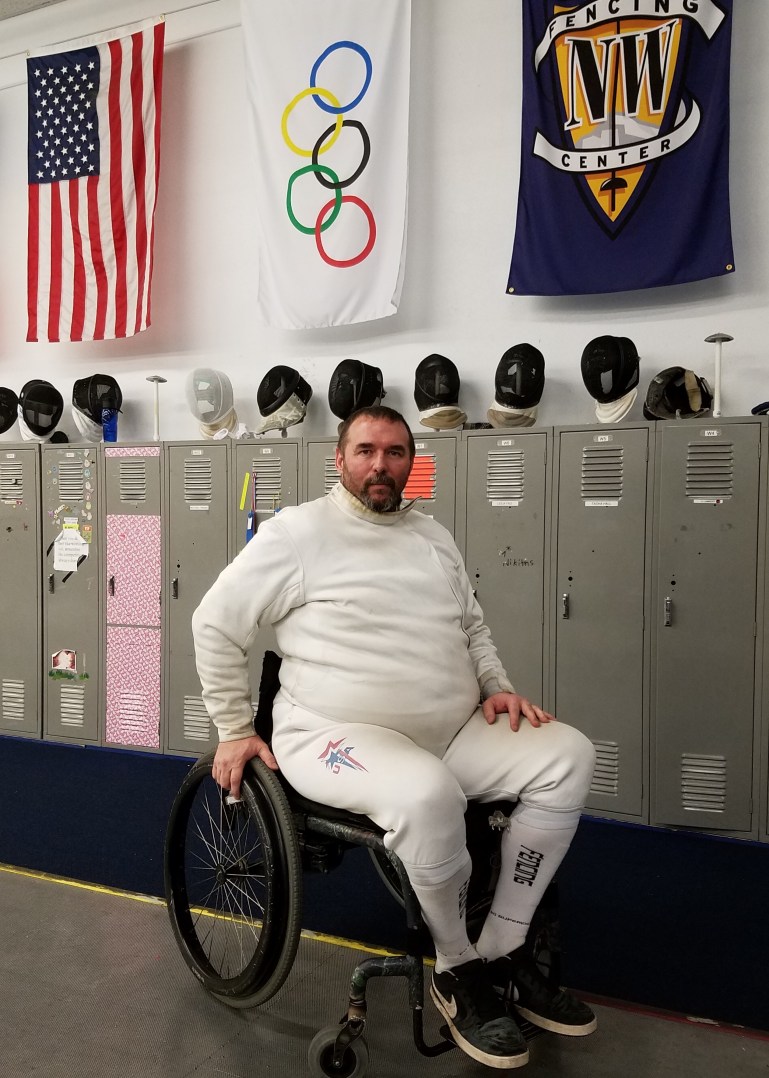 After 21 years of military service, Leo was medically discharged from the US Army in 2007. In 2004 he was hit by an improvised explosive devise (IED). For years he underwent surgeries to reconstruct his shoulder, wrist, knees, and had metal plates implanted in his face and skull. He had ligaments from his hamstring transplanted to his ankles and one of them is fused so that it can only move one direction. The physical surgeries could not repair the brain injuries, mental blows, high blood pressure and heart ailments due to his 400lb stature.
His wife Shana encouraged him to start taking his son to his sabre lessons at PDX Fencing, and soon after Leo tried wheelchair fencing. He competed in his first North American Cup 14 months later and won his first national medal earning the bronze medal in the sabre event. Leo has been fencing for 4 years and has lost 145 lbs and his no longer on any medications for his blood pressure or his heart. This revitalization has propelled him to learn armory, he has been directing at national events, taught children and adults how to fence in a wheelchair, been on 2 World Championship teams and has proudly earned the world ranking of 24 in Epee and 36 in Saber.
Leo is also the executive chairman of the board for the Oregon division of the US Fencing Association. He oversees all division business and tournaments. He wants people to know that no matter what your age or physical ability, you can find a sport that fits.
Leo traveled to 5 World Cups this season in Egar, Pisa, Paris, Montreal, and Warsaw. Traveling and competing at these international World Cups are vital for his experience, and because of the low number of wheelchair fencers in the area it becomes very hard for him to find new competitors he can expand his skill set with. The expense of traveling globally is a financial strain while living on his Veteran retirement and US Fencing does not support wheelchair fencing in this way. His opponents are often paid by their governments to travel, train and compete much like a job.
In a few short weeks he is traveling to St. Paulo, Brazil for the zonal qualification tournament. If he wins, he will be qualified for the 2016 Paralympics in Rio, Brazil this summer. Leo can be found at Northwest Fencing Center focusing on Epee and Foil most days, preparing for this tournament, taking 2 private lessons a day, and working for up to 6 hours.
---
Daniel Volkmann
Daniel and his family moved to Portland from Reno in the spring of 2015 after attending a few competitive epee classes at NWFC in February. The following fall he traveled to Richmond for the NAC and won three U.S. Fencing national medals and earned his A rating. He placed 3rd in cadet men's epee, 2nd in the team event, and also found himself on the podium for DIV 2.
Daniel first started fencing saber at the age of 9, and he found the focus and discipline intriguing and worked well with his style of learning. After learning all three weapons, he decided to focus on epee. Now, at 16 years old, moving to Northwest Fencing Center seemed like a good fit. He enjoys fencing the large variety of fencers that we have here, and he says no two fencers are alike. Daniel will observe certain successful actions from his teammates, and mime and adjust them against others.
Daniel is currently taking the USFCA Coaching Clinic that we are hosting, and immensely enjoys the course. He would someday like to coach young athletes and become a mentor and role model for the sport he has come to love. He thinks spending the week with such high level coaches will help his fencing career, and his journey to being a coach. Working on both sides of the drill, both as the coach and athlete, has been quite the experience. Also, seeing other's takes on how to motivate a student is "very fun to see", he says. He takes notes each day hoping to take the moniteur test next year, and eventually become a spokesperson for fencing to the next group of kids.
---
Elijah Long
Elijah is a proud member of Northwest Fencing Center. This summer is the two-year mark since the Long family moved from Texas to the Beaverton area so Elijah could train at NWFC. Elijah and his family are one of the many families who moved to Oregon to train with our skilled coaches and fencers.
He started fencing all three weapons in first grade; he's now in seventh grade and focusing on foil. Elijah's first experience at NWFC was at Winter Camp. After attending camp with all of the international fencers and Olympic hopefuls, they secured the move.
He says he enjoys the pre-comp classes because the classes and the private lessons are intertwined with each other. The private lesson teaches a drill and the classes let him practice with many different opponents. Like many of the students, he takes two private lessons a week.
Some of Elijah's top finishes include 1st in the most recent Pacific Northwest Cup and 36th in Cadet Men's Foil at the Capitol Clash in Maryland in January. He is looking forward to traveling to the March North American Cup in Salt Lake City this weekend. He is especially excited to compete in his first team event at a NAC.
Elijah enjoys academics in middle school and other activities such as playing the clarinet in the jazz band, reading books and he finds bio-science and DNA especially interesting. Elijah has also has many friends around the country that he likes to play video games with online.
---
Michael DeSimone
Five years ago, Michael DeSimone and his family traveled to Portland from Pittsburgh for a ski weekend on Mt. Hood. They loved the area so much, they moved here. When Michael wasn't skiing, he was rowing at the Rose City Rowing Club. Back in Pittsburgh, he was a 2nd degree black belt in Taekwondo. He started fencing at Northwest Fencing Center because his mom purchased a Groupon. Now, four years later, Michael is in the Competitive Program and taking private lessons weekly. His first NAC was in Reno where he competed in the Div3 event, placing 9th. That weekend he received his first national medal and he earned the coveted NWFC jacket patch.
Michael competed in the Battle in Seattle at Rain City where he earned his B16, a big step up from his previous D14 rating. His pools that day were just ok; he won three and lost three and was seeded 48. He won his first DE bout against an accomplished Vet and it was a close one. His second DE was against an international fencer and the 17th seed but Michael made a conscious effort to incorporate the skills he and Cody had been working on in lessons and in class. He won 15-5. Next he lost to a teammate who was the number one seed, ultimately placing 15th out of 91 competitors.
Michael is a senior at Wilson High School and looks forward to college next year. His major will be in science and he hopes to continue fencing for years to come.
---