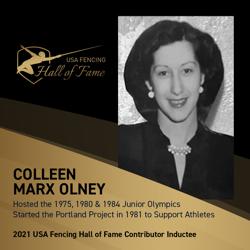 Congratulations to Bob Marx and Colleen Olney, our 2021 USA Fencing Hall of Fame inductees! They will be honored during a ceremony in Minneapolis at the 2022 Summer Nationals.
If you are going to the 2022 National Championships & July Challenge, it's time to start planning! This year it is special because Bob Marx and his mother, the late Colleen Onley, one of NWFC's founders, will be honored in the 2021 Hall of Fame for USA Fencing. Bob is one of the Hall of Fame Athlete Inductees and Colleen is a Hall of Fame Contributor Inductee. The Hall of Fame dinner is on Tuesday, July 5th. This will be a very special evening, it would be fabulous to fill the room with NWFC members, friends, and our entire fencing family. Purchase your tickets HERE.
Colleen Olney was one of the founders of Salle Auriol Fencing Club, Inc. This entity was dissolved in 1980. Suzanne Marx and two others later formed The Salle Auriol Fencing Club, aka NWFC. NWFC is an offshoot of the former. It was and is a separate legal entity. When the head coach, Yves Auriol, left for Notre Dame University, NWFC was the phoenix that rose out of the ashes.
We would not be the club we are today without Colleen Olney, Bob Marx, Suzane Marx, a long list of supporters like you.
Northwest Fencing Center's history spans nearly five decades, becoming the premier training and competition facility it is today because of the dedication and faith of many. With such deep roots, we are proud to be part of the legacy of fencing in Oregon. Read on to learn how our story began, how we've grown throughout the years, and what the future holds.
The full history of NWFC is on our website HERE.
Congratulations to Bob Marx and Colleen Olney!